ANNA PAQUIN: MISS INDIE-PENDENT
FLARE (Canada)
June 2006
Photo by Max Abadian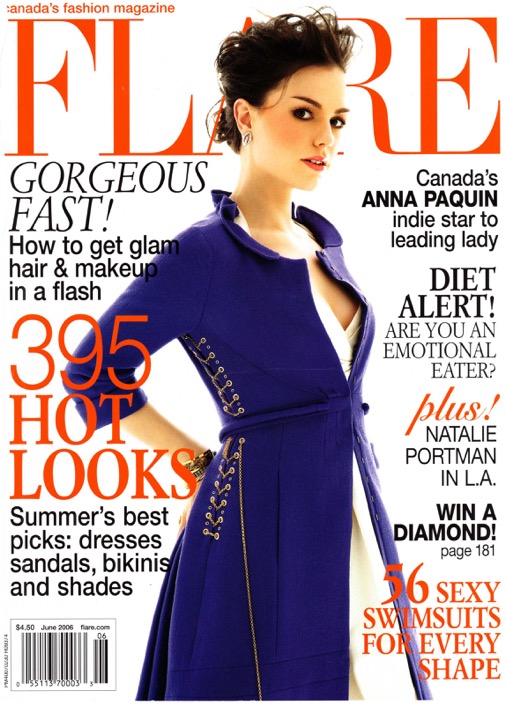 "HEY, SORRY
I'm late!" shouts Anna Paquin, 23, after bounding toward a café in Manhattan's East Village. It's 3:02, and the appointment was for three. But Paquin is no inconsiderate Hollywood brat, and her dozen-year-old honor as the second-youngest Oscar winner (after Tatum O'Neal) hasn't given her attitude. "I look like shit," she says with an apologetic smile, explaining that she's in the middle of moving. "I haven't washed my hair in several days!" Then she giggles, as she does a lot.

This was her only chance to pack. Soon would come the May 26 launch of her new movie,
X-Men: The Last Stand
, a $150 million comic-book fantasia about mutant superheroes who are battling a cure for genetic mutations, as well as the destruction of the planet. In all three
X-Men
editions, Paquin has played the vampirish Rogue, who has a white streak in her hair and a deadly touch. It's an unusually commercial role for an actress who likes taking the high road. In 1996 Franco Zeffirelli directed her as the young Jane Eyre; the same year, in
Fly Away Home
, she adopted a flock of Canadian geese. But when you have a chance to control human life in the company of Hugh Jackman, Halle Berry, and Patrick Stewart, and when the salary will score you a cooler apartment than you might own as the star of
The Squid and the Whale
and
The Dark
, why refuse?

Born in Winnipeg and raised in New Zealand, Paquin hit the ground running at nine when she was picked out of an open call to co-star in
The Piano
, Jane Campion's dreamlike art film. Two years later, in 1994, there at the Oscars stood Paquin, a waif in a beaded cap, making a bewildered, unrehearsed acceptance speech. With no professional experience, she had played a nineteenth-century Scottish child whose mute mother (Holly Hunter) is forced into an arranged marriage. Throughout the movie Paquin's eyes well with anger, defiance, and vulnerability; her face would be called "unnerving," her pauses "scene-stealing." She's barely been out of work since.

Sipping coffee this March at a diner table, however, Paquin went unrecognized; she seemed like anyone's bubbly Gen-X kid sister. Her brown hair was tied back, her makeup minimal; the space between her front teeth has gone unfixed. "Like" and "amazing" are among her favorite words. Perhaps unexpectedly, she also plays the cello, speaks French, and loves art. Some of her career choices wouldn't thrill a greedy Hollywood agent; she'll spend months in a low-paying off-Broadway play if she likes the script. Maybe because she's known as a smart actress, she's never had to compete with the latest onscreen bimbo or been left behind amid yesterday's child stars. "Nobody ever cast me because I was the little kid who had the cute lines and the cute voice and the cute face," she says, "or because I was, like, some drop-dead sexy teenager. I was usually the kid in an adult movie." Remarks an admirer of hers, the film historian David Thomson: "I have the hunch that a few more degrees of prettiness or sexiness have pushed Natalie Portman into star parts while Anna Paquin is a kind of character actress."

But Portman rarely gets to play such nuanced roles as the title character in Kenneth Lonnergan's
Margaret
, due out this fall. Paquin stars opposite Matt Damon, Mark Ruffalo, and Matthew Broderick as a young woman whose life unravels after she lies about a fatal bus accident she helped cause. Paquin's normal-girl air makes her intensely believable; it even gives the cartoon character of Rogue a truthful ring. "You don't play it differently than any other part," she says, "because if we don't take it seriously no one else will." She went through a phase of playing flirty teen temptresses (notably in
Buffalo Soldiers
and
25th Hour
), and gave them surprisingly dark undercurrents. "To be provocative is certainly one way girls can act out their troubled lives or feelings," she explains. "But I'm done with those parts now, which is great! I'm not under age anymore. So by definition I'm no longer Lolita!"

Although her parents, both teachers, separated when she was about thirteen, they did a good job of keeping her grounded. Paquin still resists anyone's efforts to kiss up to her: "I was so not getting that on the home front that when people did it in public I just wanted to laugh. It was like, OK, I don't know what you're making a big fuss about." For some time, her Oscar was stashed in a drawer. "It's kind of boring, really, and it's just a statue," she once said.

The VH1
Behind the Music
style of exhibitionism is clearly repugnant to her. "Honestly, there's not a lot to know," she says, eyes wide. "My private life is not terribly exciting. I'm not dancing on bar-tops anywhere – well, not yet, anyway." Yes, she has a boyfriend; no, she'd rather not describe how those whopping
X-Men
paychecks affected her life. "Talking about money makes me really uncomfortable," she says, staring into her coffee. The showbiz party scene was never for her, either. At photo ops she looks tense; her simple dresses in black or beige aren't exactly head-turners. She likes getting the Cinderella treatment from costumers and stylists – as she does, impressively, in the shots herein – but she's no fashionista. "I wouldn't say I ever consciously follow trends, mostly because I'm not really cool," she says, chuckling. "I never really know what they are. But I like looking at clothes and trying them on. I like getting stuff from other countries and cities that I visit, a sort of souvenir of times and places."

When the last question is answered and the check arrives – three dollars – she grabs for her purse. "Can I pay for the coffee and tea and stuff, whatever?" Told it's hardly necessary, the
X-Men
superhero flashes a sweet smile and says, "thank you
so
much!" Then she dashes home to resume the messy and all-too-human task of packing up her stuff.