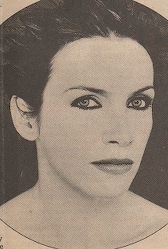 Sunday, May 14, 1995


ANNIE LENNOX: STILL OUT ON A LIMB, BUT WITH HER FEET ON THE GROUND
Photo by Bettina Rheims

ANNIE LENNOX would rather not appear in public these days. But when she does, she makes an impression. Just before the release of her new album, "Medusa," in March, she agreed to present an award at the Grammys. "Normally I shy away from that sort of thing," she says. "Then I thought, 'What the heck, I'm about to have a record out, people need to see me. I'll use this.' So I became an industry slut for the night.

To demonstrate her point, she wore a black leather dress and Mickey Mouse ears. Nobody watching seemed to have a clue what the get-up meant, but it was perfectly clear to her. "I think Michey Mouse is very sinister," she explains. "My children love him, all children love him, but Mickey Mouse is big because of dollars." The same is true of the Grammys, she says: "I wore the ears and the leather dress to connect the Mickey Mouse crown, if you will, with the fetishistic dark underworld of sex and whoredom that the Grammys represent. So I used the occasion, but also said something about it."

Now 40, the Scottish-born singer and songwriter has never been afraid to go out on a limb. As half of the Eurythmics -- the duo that ruled British technopop throughout the 80's -- she took on the guise of a carrot-haired androgyne, a dyed-blond tart and a dozen other characters as a way of commenting on the masks people hide behind. "Sweet Dreams (Are Made of This)," the single that launched her and her partner, Dave Stewart, in 1983, made a chilling statement about greed and opportunism that come wrapped in pretty packages. In 1992, Ms. Lennox took a mocking look at herself, naming her first solo album "Diva"; it sold five million copies.

"Medusa" conspicuously makes no statement at all. It consists solely of remakes of other people's songs: "Take Me to the River" (Al Green), "A Whiter Shade of Pale" (Procol Harum), "Downtown Lights" (Blue Nile) and so on. The idea came of necessity: With two young daughters, Lola, 4, and Tali, 2, to occupy her, not to mention her husband of seven years, the Israeli film maker Uri Fruchtmann, Ms. Lennox has not written a single song since "Diva."

"Medusa" has remained in the Billboard's top 20, despite many mixed reviews. Steve Morse, writing in The Boston Globe, called it a "strange side track" that "favors polite, stylized songs that wallow in mush." But for other listeners, it exploits Ms. Lennox's greatest strength; her reedy, lashing alto voice with its touches of white soul. "Medusa" inspired the singer Linda Ronstadt to call her "the best female rock singer from the 70's onward, hands down," adding, "There's emotion permeating every brilliantly executed twist and turn.

And when will her fans get to feel that emotion in person? They won't, at least not soon. No tour is planned, and her managers are turning down nearly every offer.

Two months ago, when she came to Manhattan to do "Saturday Night Live," she granted only a handful of interviews. Arriving for one of them at a secluded midtown restauant, she wore a plain navy suit, glasses and almost no makeup. But her angular blank slate of a face, with its probing, blue-eyed stare, made her unmistakable.

She had come to town with her daughters but resisted any motherly urge to show them off. "Compared to most people in my profession, I separate my public life from what I do privately," she said in her tense Scottish burr. "I pick up the papers, and you're in somebody's bathroom, and they're posing with their dog in the Jacuzzi, and I'm thinking: 'Why are they doing this? What are they gaining? And what are they losing emotionally?"'

These were the questions she had begun to ask heself in the late 80's, after years of nonstop touring with Mr. Stewart, her former lover. It was a time, she says, of groping for an identity. A brief marriage to a Hare Krishna monk had left her even more confused. Meeting her current husband helped bring her life into focus; so did quitting the Eurythmics in 1990. (She and Mr. Stewart haven't spoken since, she says.)

After two years out of the spotlight, Ms. Lennox resurfaced with "Diva," a hard look at the price of fame. In 2 of the record's 10 acclaimed videos, the singer took on the guise of a tired showgirl in pink and orange feathers. She gave one conert in Montreux, Switzerland, and then settled into domestic life. "Maybe I'll never make another record," she said at the time. "I might just go away."

By the beginning of 1994, she was back in the studio with a new challenge: to express herself through the songs of others. "Medusa" took more than a year to complete. On it, she created a gospel chorus with her own voice on "Train in Vain," the punk hit by the Clash; murmurs Neil Young's end-of-the-world anthem "Don't Let It Bring You Down" with icy detachment, and sings the playful Bob Marley ballad "Waiting in Vain" with utter defenselessness. "There are all kinds of subtexts going on that I'm sure are extremely private to her," says Ms. Ronstadt. "And they're completely compelling."

The title of "No More 'I Love You's,"' a minor hit in 1986 for the British duo the Lover Speaks, inspired the album's first video: a fantasia on the whole "mythology of love," as Ms. Lennox calls it. "Sex and love are very much bound up together," she says, "and, in most instances, they have very little to do with each other. They're used as exchange rates."

With that in mind, she searched out an abandoned music hall in London and created a turn-of-the-century bordello modeled after paintings by Degas and Toulouse-Lautrec. Ms. Lennox appears as a courtesan surrounded by about 30 characters, among them a quartet of men dressed as ballerinas. Surreal touches about, including an eerie child's voice that squeals: "The monsters are crazy? There are monsters outside!" The singer worked closely with Joe Dyer, her co-director and cameraman, but as Mr. Dyer says, "The concept for the video was all Annie's idea."

Even before "Medusa" came out, Ms. Lennox seemed to be bracing herself for the inevitable: that a lot of critics would not take seriously an album of remakes. She tried to sound philosophical about it: "If I know that I did my best, that the work is authentic to me, I just have to say, 'Well, they didn't like it."' She lets out a nervous laugh, then adds, "Fair enough, you know."

Back in her home near London, she assumes the role that she says means most to her, that of wife and mother. Whatever conflict she may feel about having to sacrifice much of her career, she is keeping it to herself. She seems much happier without the diva crown. She recalls a recent incident in which a teen-age girl walked up to her and announced, "I bathe in your energy." Embarrassed, Ms. Lennox says she told the girl's boyfriend to take her home. "I mean, go get a life!" she says. "Don't be a fan. That's pathetic. Enjoy the music, get something from it, but don't live through it. I don't have any answers. I'm just looking for answers too, you know."