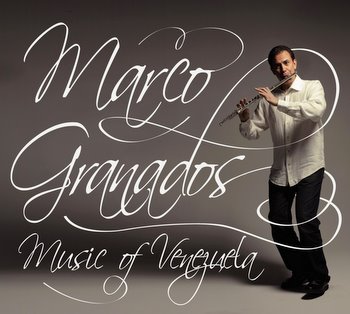 MARCO Granados is known for playing some of the most challenging music ever written for the flute, and much of it comes from his native Venezuela. Growing up there, he was steeped in a musical tradition he describes as "very happy, very up, with a lot of energy." Its wealth of local rhythms – some of them head-spinningly complex – caught his fancy, and he's devoted years to developing the skills needed to play them on flute.

Today he stands as one of the foremost ambassadors of Venezuelan music, with a technique so dazzling that the word "virtuoso" comes up in almost any description of him. Marco is renowned for his daredevil agility; he can breeze through difficult polyrhythmic tunes, often at bullet-fire speed and high altitude. A critic from the
New York City Tribune
remarked that his breath control "must be the envy of every wind player from here to the next world." Michael Brecker – the jazz saxophonist who passed on to that next world in 2007 – called him "an incredible flutist and musician."

Marco's crowd-pleasing performances are popular worldwide. He leads his own Venezuelan ensemble, Un Mundo; he's played with the Chamber Music Society of Lincoln Center and with symphonies throughout the U.S. and Latin America. His CDs explore a wide swath of Latin music. In
Tango Dreams
he saluted the tango master Astor Piazzolla;
Luna
is a program of romantic pieces for flute and guitar. He appears on
Pensando en Ti
, a collection of rumbas and boleros by Roger Davidson, the acclaimed modern composer (and founder of Soundbrush Records, Marco's current label). Several of his other albums, like
Amanecer
, preserve the Venezuelan music he loves.

This newest collection, recorded mostly in Caracas, Venezuela, showcases some of the best contemporary music from Marco's country. Surrounding him are his Un Mundo colleagues – bassist Roberto Koch, Jorge Glem on cuatro (a four-stringed, ukelele-like Venezuelan guitar), and Manuel Rangel or Leonardo Granados (Marco's brother) on maracas – plus various guest players. Together they give an authentic glimpse into a branch of Latin music that gets too little attention in the U.S.

Marco was born in Maracaibo, Venezuela's second largest city (after Caracas), in 1961; his family moved later to Colón, a city in the Venezuelan mountains near Colombia. At a music school founded by his father, a violinist, an eleven-year-old Marco took his first flute lessons. He grasped the basics so quickly that his father began taking him along to serenades – a Venezuelan holiday tradition in which musicians go from house to house and perform for friends and strangers. Marco embarked upon years of classical study. In 1978 Julius Baker, the New York Philharmonic's longtime principal flutist, invited him to move to New York to study at the Juilliard School. Three years later he entered the Mannes College of Music (The New School for Music). During that period Marco scored a remarkable coup. He appeared as a soloist at Gracie Mansion, and Mayor Ed Koch was so smitten by his playing that he invited him back several times to entertain the likes of Henry Kissinger, Plácido Domingo, and the whole State Assembly.

Over time, Venezuelan music became his focus. After the release of his 1998 CD
Amanecer
, he visited Julius Baker, his former teacher. Hearing the album, Baker was so enthused that he proclaimed the nimble, effervescent sounds therein "the future of flute playing."

"I thought, my goodness, what a responsibility!" says Marco. "Ever since then I've had a mission to make people know about this music." His efforts range from children's workshops to constant touring to CDs such as this one. It includes the work of several gifted writers who are barely known outside Venezuela. One of Marco's favorites is Alberto "Beto" Valdarrama (born 1949), a multi-instrumentalist who lives on Margarita, an island in the Caribbean Sea off Venezuela's northeastern coast. The region is called Oriente. Rather than moving to Caracas, where most of the musical action occurs, Beto, says Marco, "leads a very humble life in a village where he's the town musician, and his family makes pottery to earn a living."

Valdarrama specializes in the waltzlike, flamenco-inspired
joropo
, the country's national dance music.
Pa' Oriente Compay
(To the Orient, Compadre) belongs to a subgenre termed
joropo con estribillo
– a tricky polyrhythmic style that shifts in and out of the
joropo
's 3/4 meter. "It's really difficult to play, but fun to listen to," says Marco. Flutist-composer Gary Schocker, whose 2000 CD
Airborne
features Marco, had this to say about
Pa' Oriente Compay
: "Playing in the highest register of the flute, he makes it sound almost effortless. Note the beautiful entrance at the recapitulation on a pianissimo high C - a real virtuoso turn."


Los Tiestos de Moca
(Moca's Pottery) is Valderrama's sprightly tribute to his mother Moca. He wrote it in the style of the Venezuelan merengue, whose 5/8 rhythm distinguishes it from the 2/4 of the better-known merengue of the Dominican Republic. Cuatro player Jorge Glem shakes things up by switching to 3/4- time in the C-section. A third piece by Valdarrama,
El Avispero
(The Wasp's Nest), is a breakneck duet with Francisco Flores, an award-winning young trumpeter (born 1981 in San Cristóbal, Venezuela) with a facility and precision to equal Marco's.


Confesión a las Estrellas
(Confession to the Stars) was penned by Orlando Cardozo, a cuatro, flute, and clarinet player who tours with Catako, a Venezuelan trio. One of the album's two ballads, it spotlights Roberto Koch, a bassist of rare melodicism. The high-speed polyrhythms return in
La Abuelita
(The Grand Mother), a showpiece by Aquiles Báez, a celebrated guitarist and composer who leads a Venezuelan jazz quintet. Marco calls him "a master of all the Latin forms – and he knows the jazz language, while staying true to Venezuelan tradition."
La Encantadora
(The Enchantress) is by Julio Mendez, another talented cuatro player who comes from the same mountain region where Marco grew up.
Mi Niña
(My Girl) is a tender lullaby in 3/4 by Ricardo Sandoval, a Chile-born mandolinist and composer who grew up in Venezuela. He wrote this song for his baby daughter. Marco spins it out with the purest, most delicate threads of sound.

Aquiles Báez wrote
Cañoneando
(Street Playing) to evoke the lively merengues played in Venezuelan street festivals, in which locals do dance processions. Marco offers a slower, more somber merengue with
Regresando
(Returning), penned by Gonzalo Teppa, a leading jazz bassist in Venezuela. Teppa wrote the song for a woman he married there after he'd spent years in the States. Subsequently Marco went back to Venezuela following a long absence of his own, and Teppa gave him a copy of
Regresando
. "For me it also meant a return," he says. They recorded it together for this album.


Recordando
a Tila
is another
joropo con estribillo
, written for Marco by Aquiles Báez. Like
Pa' Oriente Compay
it exploits the flutist's cloudless tone in his instrument's stratosphere, but this time he's floating above a progression of jazzy harmonies. The title literally means "Remembering the Lime Tree," but in fact it contains an in-joke. Back when Aquiles and Marco were touring together, the band held contests as to who could tell the most off-color joke. Whoever won was called Attila, after Attila the Hun. The piece is a wink at those days.
Los Doce
(The Twelve) comes from a Colombian composer, Alvaro Romero. The flutist was "blown away" when he heard it played on mandolin by Cristóbal Soto, a member of Venezuela's acclaimed Ensamble Gurrufío. Marco transcribed it from their record.

Every Venezuelan knows
El Gavilán
(The Hawk), a classic joropo. That's why Agelvis Sánchez, a young, classically-trained composer, felt free to write the variations Marco plays here. But only in Venezuela's rain forest is one likely to hear calypso, the throbbing Afro-Caribbean music that emerged from the island of Trinidad. Decades ago, explains Marco, an effort was made to recruit men to work in the ore mines, which reside in the rain forest. "The only people they could get came from the islands by boat. They brought their music with them, and it became popular in the middle of the jungle." Ricardo Sandoval wrote
Bumbac
, the airy, dancing calypso heard here. It's named after a drum popular in the rainforest – one that makes the sound "BOOM-bak" when stroked. Marco invited the leading bumbac player of Caracas, Alexander Livinali, to participate.

The bassist and keyboard player Rodner Padilla hails from Caja de Agua, a town outside Caracas. When he showed his band a new piece he'd written, they jokingly named it after him:
El Negrito e' Caja de Agua
(The Little Black Boy from Caja de Agua). Composer Jacob Pick Bittencourt (1918-1969) became a legend in his native Brazil under a nickname of his own, Jacob do Bandolim – so given him because of his breathtaking mandolin-playing. He specialized in the
choro
, a tuneful, energetic, African-influenced style that flourished in the first half of the twentieth century. Jacob do Bandolim's fame spread to Venezuela, where his
El Vuelo de la Mosca
(The Flight of the Fly) remains a favorite. Marco and Francisco Flores deliver this high-octane tour de force in joropo style – sometimes playing in perfect unison, sometimes shadowing each other with the same pinpoint accuracy. Like the rest of this CD,
El Vuelo
shows the unique capabilities of the flute – and of a musician who keeps raising its potential in exciting ways.