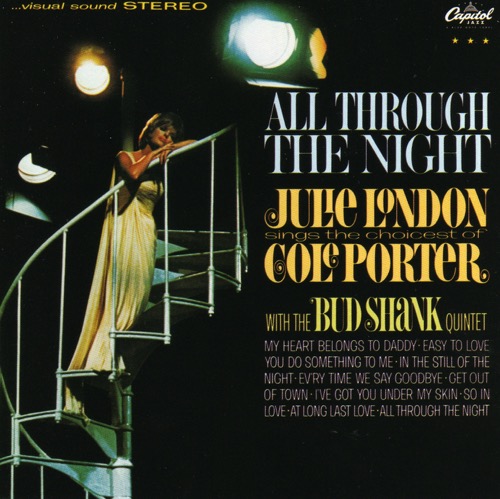 WHEN COLE PORTER
died on October 15, 1964, his popularity wasn't exactly booming. Beatlemania had made the Great American Songbook seem antique, and everyone from Steve & Eydie to Sarah Vaughan was struggling to get "with it." Jazz record producer Dick Bock, a founding father of West Coast Cool, had partly given up the fight. In 1965 he sold his label, World-Pacific, to a larger company, Liberty, while staying on as an executive. Bock saw Porter's death as a chance to let two of his veteran stars – singer Julie London and the flute and alto player Bud Shank – record the repertoire they loved. Together with pianist Russ Freeman, the album's producer and arranger, and three more top-rank L.A. musicians, they created one of the sexiest pop-jazz albums ever made: a midnight-blue wedding of hot and cool that placed Porter's love songs between the sheets, where they belonged.

London's coital purr was made for the recording microphone; a decade earlier it had caught the national ear in her breakthrough hit, "Cry Me a River." The former B-movie bombshell went on to make a long series of respected pop-jazz LPs; their cheesecake covers kept many a lad company after he'd bid his folks goodnight.

By the '60s her sales had dipped, and London was reduced to recording other singers' middle-of-the-road hits. Her winsome beauty had hardened; now she looked like a fading Beverly Hills trophy wife, the kind who totters around half-drunk in her nightgown and puts the make on the pool boy. In fact, London was married to Bobby Troup, the genial pianist and TV host who wrote a jazz standard, "Route 66." But Mrs. Troup was hard as nails, with a cigarette in one hand and a gin-and-tonic in the other. At one point, recalls this album's drummer, Colin Bailey, Bock gave her a directive from the control booth. Back came London's voice telling him to "fuck off!"

But it was her musicianship, more than her longshoreman's vocabulary, that made her "one of the guys." Shank admired her: "Julie had good ears, and she was married to a piano player, so she had lots of time to practice at home."

Shank himself had no lack of skill; what he needed was to sell records. Bock had upped the musician's ante by having him make easy-listening albums. "The '60s were like a vast desert," he said. "I was doing whatever Dick Bock could think up just to keep my name in front of people."

Hence his co-star billing here. The "Bud Shank Quintet" wasn't a working unit, but its members had collaborated often. Russ Freeman's boppish, percussive playing had once backed Charlie Parker, but he gained his greatest note as the backbone of the original Chet Baker Quartet. Monty Budwig was one of L.A.'s most reliable bassists; British-born Colin Bailey took part in a slew of important albums, notably
Francis Albert Sinatra-Antonio Carlos Jobim
and
A Charlie Brown Christmas
. Guitarist Joe Pass had accompanied Sinatra; he could play with dizzying virtuosity or the utmost simplicity and grace, as he does in
At Long Last Love
.

These heavyweights form a silky backdrop for Julie London. In
Get Out of Town
, Shank's sinewy alto weaves circles around London's woozy plea.
All Through the Night
and
So in Love
had been sung operatically on Broadway; London turns them into pure eroticism. Bailey plays the latter in a hypnotic double time; it heats up the singer's plea to "taunt me and hurt me."

The album was recorded in two sessions, but a third was needed for London to do some overdubbing – "unheard of in those days," recalled Bailey in 2007. "Julie was having a few nips from her flask, and by the end of the second date she was a little juiced." (In
Ev'ry Time We Say Goodbye
she sounds as though she'd already passed out.) Nonetheless, said Bailey, "I always loved her singing, that husky sound. She was great to work with, and very nice to us."

Her singing career, alas, had more or less ended by 1972, when she and Troup began a five-season run as co-stars of TV's
Emergency!
London died in 2000, but her carnal whisper is far from faded; nearly every one of her thirty-plus albums has made it to CD. Now comes this one to seduce us anew.