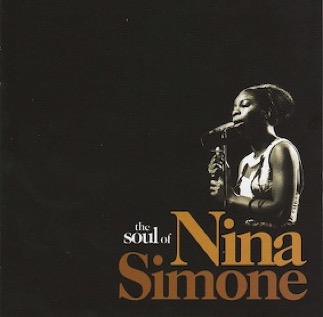 DEFIANCE
was the theme of the '60s, Nina Simone's prime decade as an artist. Defiance was also the ruling force of Simone's life, right until April 21, 2003, when she died, reclusive and mad as hell, at her home in the South of France. The singer had fled America over thirty years before. Why? "Racism!" she insisted in her reedy, lashing voice. The same thing, she swore, had made Philadelphia's Curtis Institute of Music deny her admission as a piano student in the early '50s. "I never got over it," she said.

That indignation gave birth to the seething intensity you'll find in this CD-DVD collection. Most of the performances date from her years at RCA (1965-1974), when Simone brought her personal battles to the stage and connected with a whole era of upheaval. She wasn't humble about her stature. "Black classical music" is how she termed her style, which incorporated folk tunes, jazz and African rhythms, and classical flourishes. She channeled it all into brooding internal monologues, sung in an indigo voice whose craggy edges bristled with black pain and rage.

Her song choices of the late '60s speak for themselves: "Revolution," "Backlash Blues," "Mississippi Goddam," "Go to Hell." So do her looks. Simone made a black-is-beautiful statement before the phrase existed, with her flowing African dresses and turbans, afro, and huge hoop earrings. Her face seemed like a glowering African mask – a unflinching symbol of Negro strength.

But this set focuses less on the activist than the soul singer. For Simone, love was as tenuous as the state of the world. In her hands, even a song as playfully seductive as
The Look of Love
sounded conflicted, skeptical. Those qualities pervade the video performances here, none of which has ever been issued before. You'll also see glimmers of the warmth and impish humor that Simone would soon lose. As she once said, the '60s were the last time she felt hope – for the future of the Negro race and for all mankind. Music, she felt, was the ultimate salvation. "Through music you can feel the vibrations of everybody in the world at any given moment," she told
Down Beat
in 1969. "Anything human can be felt through music, which means that there is no limit to the creating that can be done with music. It's infinite. It's like God, you know?"

One of eight children, Simone was born Eunice Kathleen Waymon on February 21, 1933. Her hometown of Tryon, North Carolina was a place of "dirt and squalor and
hate
," she later said. But the piano, which she had started playing as a toddler, offered a way out. With dreams of becoming "the first black concert pianist," she entered Juilliard on a one-year scholarship. Then came the sting of rejection by Curtis. In 1954 she took a survival job as pianist in an Atlantic City dive, the Midtown Bar. The owner insisted she sing. Not wanting her mother, a Methodist minister, to know of her demeaning job, she renamed herself Nina Simone.

As she played to raucous crowds, Simone developed her familiar hauteur. Her showy, Juilliard-trained piano style was pitched deliberately above the customers' heads. "I felt that if they didn't want to listen, they could go the hell home," she would tell Bradley Bartin of
Details
in 1997. Offstage she could be fun-loving and friendly, but that wasn't the persona she wanted the public to see.

One can glimpse the early Simone here, in her 1960 two-song appearance on
The Ed Sullivan Show
.
Love Me Or Leave Me
reflects her effort to elevate pop music by interpolating classical themes – in this case, Bach's Fugue in C Major.
I Loves You Porgy
, recorded on her debut LP for Bethlehem, had quickly become her trademark. Simone had stripped this aria from
Porgy and Bess
of its operatic grandeur, singing it instead in a low, haunted wail.

Much of the album had a similar feel, and the producer thought it needed a lift. So Simone found a Tin Pan Alley ditty, added a shuffle rhythm and a biting dose of irony, and ended up with the sole commercial hit of her career. It happened in Europe in the late '80s, after
My Baby Just Cares for Me
– heard in this set – was used on a TV commercial for Chanel No. 5.

Her extended
Porgy and Bess
medley, caught live at the 1963 Newport Jazz Festival, has been issued here for the first time. Simone's trio listens intently as she rambles her way through a searching performance, full of weighty pauses and sighs of despair. She could turn pop tunes of the day into the same kind of searing autobiographical statements.
Feelin' Good
, from the English musical
Roar of the Greasepaint, Smell of the Crowd
, becomes a cool assertion of racial triumph in Simone's 1965 recording. Forty years later, the track was revived memorably o a promo for HBO's hit series
Six Feet Under
.
To Love Somebody
, one of the Bee Gees' first hits, is changed here from bubble-gum pop to a snarling cry of betrayal. The CD also features a top Simone anthem,
Don't Let Me Be Misunderstood
, recorded live at the Westbury Music Fair and never released until now. She and the Animals, a British rock group, had cut competing singles of the song in the mid-'60s. To Simone's annoyance, the Animals had the hit, while her version failed to chart.

In the 1967 album
Nina Simone Sings the Blues
(1967), love is furtive and leaves a bitter taste. Simone growled Lil Green's
In The Dark
in a tough, guttural voice, backed by a funky band with organ and harmonica. She sang
My Man's Gone Now
, another aria from
Porgy and Bess
, at the end of a tiring session. Her weary sound makes Bess's story of desertion all the more poignant.

After the murders of Martin Luther King, Jr. and Malcolm X, disillusion became her overriding theme.
Save Me
, issued on a 1969 single, had been plucked from the first Atlantic LP of its co-author, Aretha Franklin. Simone brought an R&B flavor to Bob Dylan's
Just Like Tom Thumb's Blues
, the lament of a man let down by everyone: government, friends, police. In a painfully raw solo album,
Nina Simone and Piano!
, she wallowed in the bleakness of
I Think It's Going to Rain Today
, an early Randy Newman song that looks achingly into a gray future.

In the summer of 1969, a ray of community hope seemed to appear when New York City played host to a black version of Woodstock: the Harlem Festival, held in the northernmost end of Central Park. Maxwell House Coffee had sponsored a series of six free concerts, which drew crowds of up to 100,000 . The attractions included Sly and the Family Stone, Stevie Wonder, Mahalia Jackson, B.B. King, Gladys Knight and the Pips, and Simone. The first show became a syndicated television special, and Hal Tulchin, the festival's organizer and a producer of TV music shows, paid to have the rest of that historic series filmed. Tulchin sold another hour of highlights for foreign syndication, but to his dismay, no U.S. network or syndicator was interested. "Time and time again I was told candidly, 'There is no interest in putting on a black special,'" he explains.

With this DVD, several numbers from Simone's set can finally be seen in the States. It was a night for Black Power, and there was little time for love songs. A "very tough, very withdrawn" Simone, as Tulchin recalls her, shared two of her crowning originals with the most simpatico audience the songs had ever had.
Young, Gifted and Black
was declared the Negro National Anthem by the Congress of Racial Equality;
Four Women
unveils a gallery of black archetypes whose skin tones and callings differ but who bear the same social scars.

By the early '70s, the burning focus seen in her performance that night had given way to an uncontrollable rage. The civil rights movement was crumbling, and her record sales had plunged; RCA let her go in 1974. Then the IRS cracked down on her for years of non-payment. Simone became a nomad, living in Barbados, Liberia, Switzerland, France, and Holland. She blamed every blow on racism. "I believe that America is going to die, die like flies," she told Alison Powell of
Interview
in 1997.

In her final years Simone canceled most of her scheduled concerts, performing only out of financial necessity. Her worshippers packed Carnegie Hall in 2001 for what would be her last New York appearance. Wrote Ann Powers in the
New York Times
: "The concert had a religious aura, right down to the voodoo-style wand, apparently made of blond horsehair, that Simone waved to conjure more applause." At the end of her brief set, she shouted, "Go home! Go home!" Her followers obeyed. But the fascination with Simone hasn't stopped. Her sorcery lives on in this collection.