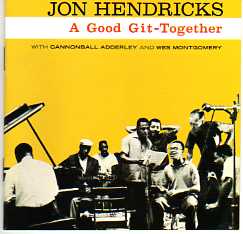 As nimble a wordsmith as Ogden Nash and as slick a showman as Sammy Davis, Jr., Jon Hendricks has spent his career turning the jazz life into poetry. He took the most inspired instrumental solos of the '50s; gave them witty, fluent lyrics (an art called "vocalese"); and sang them in a voice whose pleasing hoarseness suggested a guy who loved to hoot and holler. Along the way he burst seamlessly into cascades of scat, or mimicked a bass or tenor sax. "As for this idea of putting lyrics to jazz solos –
I
didn't hit on it," Hendricks explained in the '60s. "I heard King Pleasure do 'Moody's Mood for Love,' so that started me. But I understand that he got that from Eddie Jefferson, who in turn, got it from his wife – who actually wrote the lyric."

From 1957 through 1962, he roamed the world with Lambert, Hendricks & Ross, the vocalese trio whose bullet-fire story-songs celebrated an historic era in jazz. Hendricks stirred in a lot of hip social commentary, but
A Good Git-Together
, his 1959 solo LP debut, is mostly a party. Songs like
I'll Die Happy
tell of a life lived joyfully in the moment, with no regrets: "So when they plant my body 'neath the sun/Please don't take it so hard/'Cause while I'm off in that eternal nod/I'll be the happiest cat in the graveyard!"

Who can blame him, when he got to make records like this? Visiting San Francisco, Hendricks hooked up with the likes of Wes Montgomery, Bay Area alto star Pony Poindexter, and the Adderley brothers. (The latter were signed to Riverside, hence their anonymous billing on the original release.) He sang vocalese, he scatted, he joined Poindexter for a rollicking gospel duet,
I'm Gonna Shout
. Nearly fifty years later, Hendricks was still shouting; how could so much glee not go on and on?