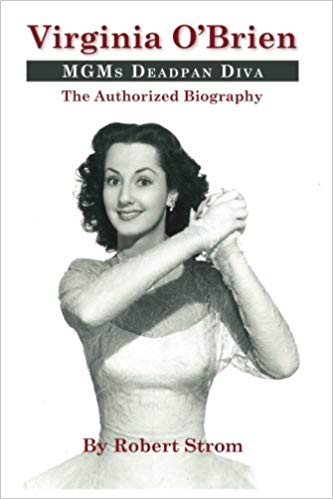 Long before Keely Smith made deadpan singing her comic stock-in-trade, Virginia O'Brien had wittily and famously done the same. It happened in some of the most acclaimed MGM musicals of the 1940s:
Ziegfeld Follies
,
The Harvey Girls
,
Till the Clouds Roll By
,
Thousands Cheer
,
Du Barry Was a Lady
. Whether crooning of a birthday that had gone wrong ("Did I Get Stinkin' at the Club Savoy"), a manhunt on the old frontier ("The Wild, Wild West"), the non-glamour of showbiz ("Life upon the Wicked Stage"), or her obsession with a man who's determined to bump her off ("Say That We're Sweethearts Again"), O'Brien held a poker face, except when her eyes rolled wryly heavenward or from side to side. In films where love conquered all and women lived for romance, she was the skeptic—a sleek, big-city brunette who played courting and heartbreak for laughs.

Popular as she was, she never became a top-rank star. O'Brien had a lead role in just one film, the Red Skelton comedy
Merton of the Movies
(1947); otherwise, like Lena Horne, she was mainly an MGM utility player, dropped into nightclub scenes or production numbers as a dash of spice. The public knew little about her. To this day; even hardcore movie buffs are in the dark about the off-camera O'Brien, who died in 2001.

Now, thanks to Robert Strom's richly researched, engaging biography, O'Brien is finally getting the full spotlight. Where she came from, how her persona evolved, what it was like to be a stock performer at the legendary Dream Factory of movie musicals—all this is vividly detailed in Robert's book. Having released others about Peggy Lee and Gypsy Rose Lee, Robert knows a thing or two about unusual performing women. Happily, he shows that there was much more to O'Brien than her novelty image, and that her career was far from over after MGM. O'Brien appeared memorable in TV and cabaret; she toured in a package show with Sally Rand, Cass Daley, Beatrice Kay, and Allan Jones; she even became mayor of a small town. Hers is an overlooked Hollywood story that deserved telling. Robert has told it wonderfully.