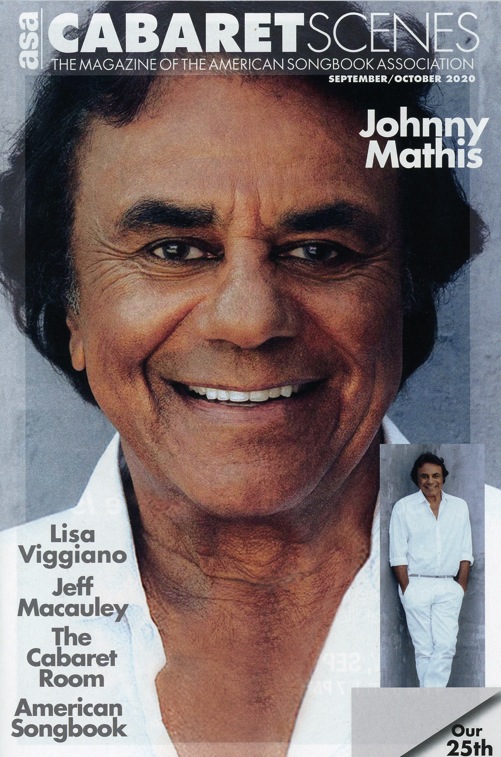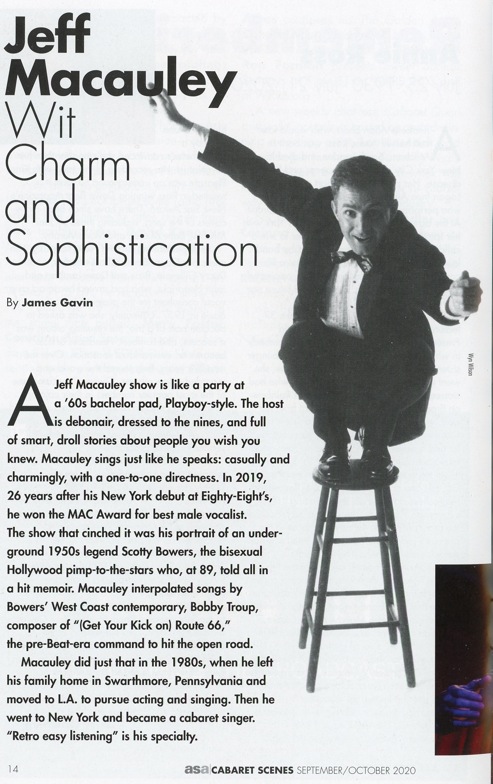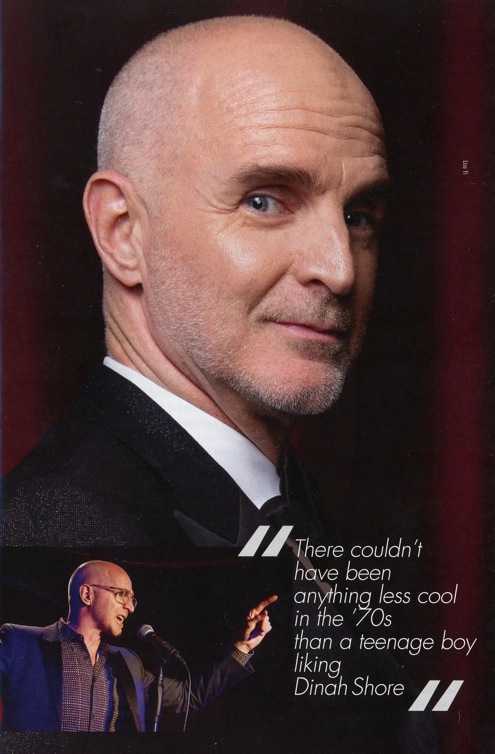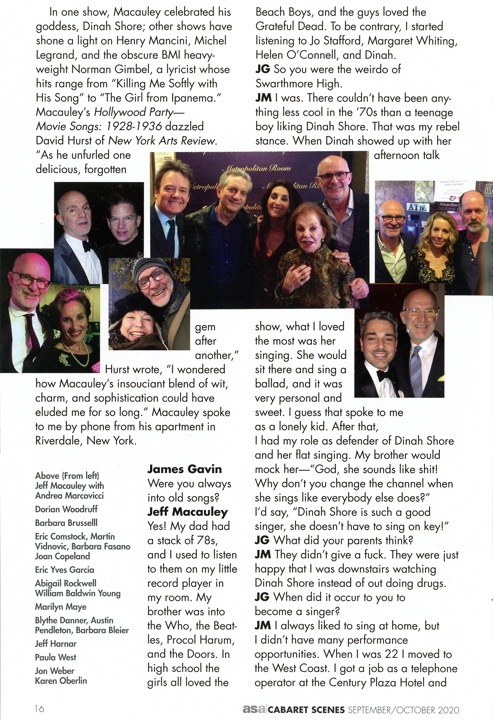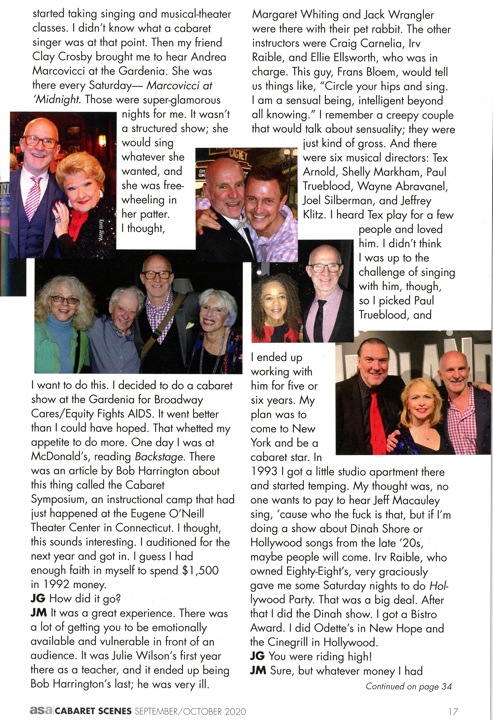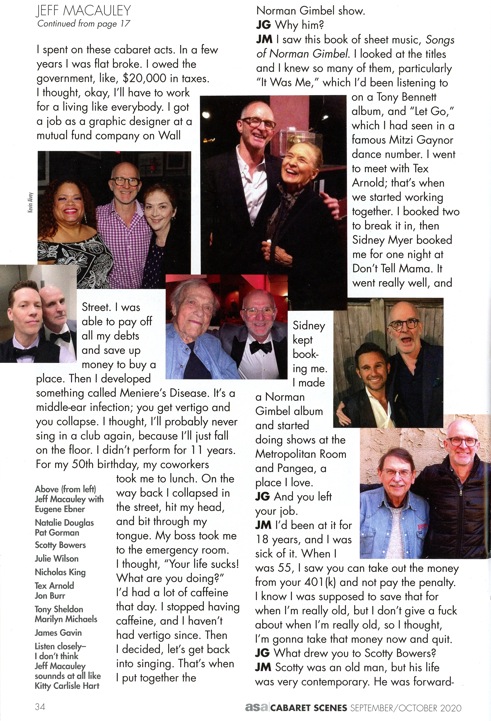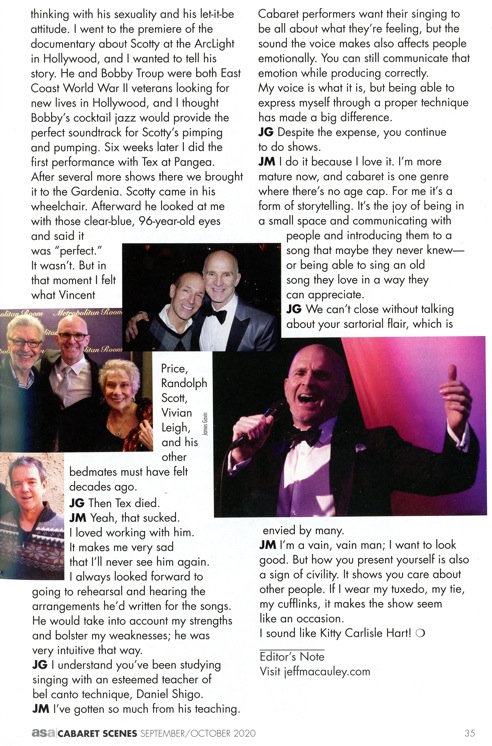 A Jeff Macauley show is like a party at a '60s bachelor pad,
Playboy
-style. The host is debonair, dressed to the nines, and full of smart, droll stories about people you wish you knew. Macauley sings just like he speaks: casually and charmingly, with a one-to-one directness. In 2019, twenty-six years after his New York debut at Eighty-Eights, he won the MAC Award for best male vocalist. The show that cinched it was his portrait of an underground '50s legend, Scotty Bowers, the bisexual Hollywood pimp-to-the-stars who, at 89, told all in a hit memoir. Macauley interpolated songs by Bowers's West Coast contemporary, Bobby Troup, composer of "Route 66," the pre-Beat-era command to hit the open road.
Macauley did just that in the '80s, when he left his family home in Swarthmore, Pennsylvania and moved to L.A. to pursue acting and singing. Then he went to New York and became a cabaret singer. Retro Easy Listening is his specialty. In one show, Macauley celebrated his goddess, Dinah Shore; others have shone a light on Henry Mancini, Michel Legrand, and the obscure BMI heavyweight Norman Gimbel, a lyricist whose hits range from "Killing Me Softly with His Song" to "The Girl from Ipanema." Macauley's "Hollywood Party—Movie Songs: 1928-1936" dazzled David Hurst of
New York Arts Review
. "As he unfurled one delicious, forgotten gem after another," Hurst wrote, "I wondered how Macauley's insouciant blend of wit, charm, and sophistication could have eluded me for so long." Macauley spoke to me by phone from his apartment in Riverdale, New York.


Were you always into old songs?

Yes! My dad had a stack of 78s, and I used to listen to them on my little record player in my room. My brother was into the Who, the Beatles, Procol Harum, and the Doors. In high school the girls all loved the Beach Boys and the guys loved the Grateful Dead. To be contrary, I started listening to Jo Stafford, Margaret Whiting, Helen O'Connell, and Dinah.


So you were the weirdo of Swarthmore High.

I was. There couldn't have been anything less cool in the '70s than a teenage boy liking Dinah Shore. That was my rebel stance. When Dinah showed up with her afternoon talk show, what I loved the most was her singing. She would sit there and sing a ballad and it was very personal and sweet. I guess that spoke to me as a lonely kid. After that, I had my role as defender of Dinah Shore and her flat singing. My brother would mock her—"God, she sounds like shit! Why don't you change the channel when she sings like everybody else does?" I'd say, "Dinah Shore is such a good singer, she doesn't have to sing on key!"


What did your parents think?

They didn't give a fuck. They were happy that I was downstairs watching Dinah Shore instead of out doing drugs.


When did it occur to you to become a singer?

I always liked to sing at home, but I didn't have many performance opportunities. When I was 22 I moved to the West Coast. I got a job as a telephone operator at the Century Plaza Hotel and started taking singing and musical-theater classes. I didn't know what a cabaret singer was at that point. Then my friend Clay Crosby brought me to hear Andrea Marcovicci at the Gardenia. She was there every Saturday— "Marcovicci at Midnight." Those were super-glamorous nights for me. It wasn't a structured show; she would sing whatever she wanted, and she was freewheeling in her patter. I thought, I want to do this. I decided to do a cabaret show at the Gardenia for Broadway Cares/Equity Fights AIDS. It went better than I could have hoped. That whetted my appetite to do more. One day I was at McDonald's, reading
Backstage
. There was an article by Bob Harrington about this thing called the Cabaret Symposium, an instructional camp that had just happened at the Eugene O'Neill Theater Center in Connecticut. I thought, this sounds interesting. I auditioned for the next year and got in. I guess I had enough faith in myself to spend $1,500 in 1992 money.


How did it go?

It was a great experience. There was a lot of getting you to be emotionally available and vulnerable in front of an audience. It was Julie Wilson's first year there as a teacher, and it ended up being Bob Harrington's last; he was very ill. Margaret Whiting and Jack Wrangler were there with their pet rabbit. The other instructors were Craig Carnelia, Irv Raible, and Ellie Ellsworth, who was in charge. This guy, Frans Bloem, would tell us things like, "Circle your hips and sing, I am a sensual being, intelligent beyond all knowing." I remember a creepy couple that would talk about sensuality; they were just kind of gross. And there were six musical directors—Tex Arnold, Shelly Markham, Paul Trueblood, Wayne Abravanel, Joel Silberman, and Jeffrey Klitz. I heard Tex play for a few people and loved him. I didn't think I was up to the challenge of singing with him, though, so I picked Paul Trueblood, and I ended up working with him for five or six years. My plan was to come to New York and be a cabaret star. In 1993 I got a little studio apartment there and started temping. My thought was, no one wants to pay to hear Jeff Macauley sing, 'cause who the fuck is that, but if I'm doing a show about Dinah Shore or Hollywood songs from the late '20s, maybe people will come. Irv Raible, who owned Eighty-Eights, very graciously gave me some Saturday nights to do "Hollywood Party." That was a big deal. After that I did the Dinah show. I got a Bistro Award. I did Odette's in New Hope and the Cinegrill in Hollywood.


You were riding high!

Sure, but whatever money I had I spent on these cabaret acts. In a few years I was flat broke. I owed the government, like, $20,000 in taxes. I thought, okay, I'll have to work for a living like everybody. I got a job as a graphic designer at a mutual fund company on Wall Street. I was able to pay off all my debts and save up money to buy a place. Then I developed something called Meniere's Disease. It's a middle-ear infection; you get vertigo and you collapse. I thought, I'll probably never sing in a club again, because I'll just fall on the floor. I didn't perform for eleven years. For my fiftieth birthday, my coworkers took me to lunch. On the way back I collapsed in the street, hit my head, and bit through my tongue. My boss took me to the emergency room. I thought, "Your life sucks! What are you doing?" I'd had a lot of caffeine that day. I stopped having caffeine, and I haven't had vertigo since. Then I decided, let's get back into singing. That's when I put together the Norman Gimbel show.


Why him?

I saw this book of sheet music,
Songs of Norman Gimbel
. I looked at the titles and I knew so many of them, particularly "It Was Me," which I'd been listening to on a Tony Bennett album; and "Let Go," which I had seen in a famous Mitzi Gaynor dance number. I went to meet with Tex Arnold; that's when we started working together. I booked two shows at the Gardenia to break it in, then Sidney Myer booked me for one night at Don't Tell Mama. It went really well, and Sidney kept booking me. I made a Norman Gimble album, and started doing shows at the Metropolitan Room and Pangea, a place I love.


And you left your job.

I'd been at it for eighteen years, and I was sick of it. When I was 55, I saw you can take out the money from your 401K and not pay the penalty. I know I was supposed to save that for when I'm really old, but I don't give a fuck about when I'm really old, so I thought, I'm gonna take that money now and quit.


What drew you to Scotty Bowers?

Scotty was an old man, but his life was very contemporary. He was forward-thinking with his sexuality and his let-it-be attitude. I went to the premiere of the documentary about Scotty at the ArcLight in Hollywood, and I wanted to tell his story. He and Bobby Troup were both East Coast World War II veterans looking for new lives in Hollywood, and I thought Bobby's cocktail jazz would provide the perfect soundtrack for Scotty's pimping and pumping. Six weeks later I did the first performance with Tex at Pangea. After several more shows there we brought it to the Gardenia. Scotty came in his wheelchair. Afterward he looked at me with those clear-blue, 96-year-old eyes and said it was "perfect." It wasn't. But in that moment I felt what Vincent Price, Randolph Scott, Vivian Leigh, and his other bedmates must have felt decades ago.


Then Tex died.

Yeah, that sucked. I loved working with him. It makes me very sad that I'll never see him again. I always looked forward to going to rehearsal and hearing the arrangements he'd written for the songs. He would take into account my strengths and bolster my weaknesses; he was very intuitive that way.


I understand you've been studying singing with an esteemed teacher of bel canto technique, Daniel Shigo.

I've gotten so much from his teaching. Cabaret performers want their singing to be all about what they're feeling, but the sound the voice makes also affects people emotionally. You can still communicate that emotion while producing correctly. My voice is what it is, but being able to express myself through a proper technique has made a big difference.


Despite the expense, you continue to do shows.

I do it because I love it. I'm more mature now, and cabaret is one genre where there's no age cap. For me it's a form of storytelling. It's the joy of being in a small space and communicating with people and introducing them to a song that maybe they never knew—or being able to sing an old song they love in a way they can appreciate.


We can't close without talking about your sartorial flair, which is envied by many.

I'm a vain, vain man; I want to look good. But how you present yourself is also a sign of civility. It shows you care about other people. If I wear my tuxedo, my tie, my cufflinks, it makes the show seem like an occasion. I sound like Kitty Carlisle Hart!