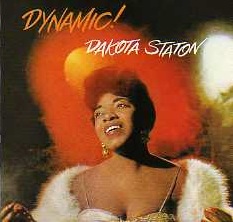 BACK IN
the jazz singer's heyday of the 1950s, it wasn't unusual to find Ella, Sarah, or June Christy sharing the pop LP charts with Elvis Presley or Mitch Miller. But nobody expected Dakota Staton, a madly quirky, little-known chirp from Pittsburgh, to score one of the runaway album hits of 1958.
The Late, Late Show
redefined jazz singing as pure fun – and Staton kept the party rolling on
Dynamic!
, recorded just as her debut was rising to number four.

Staton's upbeat style incorporated whoops, squeaks, sobs, British vowels, a fluttery vibrato, and a pseudo-operatic head voice. Sometimes she slipped into the latter-day rasp of Billie Holiday, the little-girl coyness of Sarah Vaughan, or the police-siren wail of her idol, Dinah Washington. Her looks were as over the top as her voice: Staton's Zaftig hourglass figure, poured into lace or beads, recalled Mae West, and she favored fur stoles and huge bouffant hairdos. "I came from that era of glamour," explained the singer, who was in her twenties. "I was a showgirl … and I'm not like other people."

Her appeal involved more than gimmickry. At the 1960 Newport Jazz Festival, Staton barreled through her first album's tricky title song with dead-on pitch and a lusty, swinging feeling. Years later, Nell Carter, the star of
Ain't Misbehavin'
, became the toast of Broadway with a style that sounded much like Staton's.

Born in either 1931 or 1932 (sources differ), Staton emerged at seventeen in a Pittsburgh musical,
Fantastic Rhythm
. It led to years of low-profile band singing and club dates. During her 1954 stop at Harlem's Club Baby Grand, Willie Bryant, a Harlem dancer and showman, plugged her so fervently on his radio show that she was asked to audition at Capitol. On the day before Thanksgiving she made her first single; the next year
Down Beat
voted her the most promising newcomer in jazz.

But hers was a slow climb, as she toured for two more years in R&B revues. Then came
The Late, Late Show
. Through 1961, Capitol would release ten more Dakota Staton albums.
Dynamic!
was arranged by Sid Feller, whose country-western collaborations with Ray Charles (including "Georgia on My Mind") had proven a goldmine. But the guiding instrumental voice here
belongs to Harry "Sweets" Edison; his breezy muted trumpet gives the album's small-group tracks a wonderfully casual charm. Edison's horn dances around Staton in a playful
Anything Goes
; the joy rises as they bounce swinging phrases off each other in
They All Laughed
. Staton's ballad singing – notably on a choked-up
Little Girl Blue
– is nothing if not sincere.
Her reviews, as usual, were mixed.
"
She does not suffer from any lack of enthusiasm," wrote
Down Beat
, "but she should apply some discipline to a rather wild approach."
Metronome
agreed, but praised the "enthralling power in her blues singing; it's something that sets the audience to snapping its fingers, nodding its accumulative head, and brings out strange gurgling noises that sound something like 'yeahhhh.'"

Nothing Staton recorded after
The Late, Late Show
could match that album's success, and after Capitol she jumped from label to label, sometimes vanishing for years in between. In the '90s she became a semi-regular at a Manhattan cabaret, Danny's Skylight Room. Anyone hoping to hear her sing as she had on Capitol wasn't disappointed. A paralyzing stroke in 2000 would silence her; luckily she had recently been filmed for
Jazz Women
, a documentary by Gabriella Morandi that celebrated a dozen or so of the field's great survivors. "Thank you for including me," Staton told one of the interviewers. "Because no one ever does."