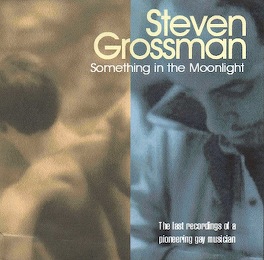 A HANDFUL OF
photos exist from the mid-'70s emergence of Steven Grossman, a Brooklyn-born troubadour for whom big things were predicted. His look alone should have taken him far. In these pictures, Grossman has the mysterious, deep-set eyes of the Mona Lisa, framed by flowing brown hair. He could be a sexy hippie, a wraithlike artist in a garret, or an actor playing Jesus. Mercury Records released his first album,
Caravan Tonight
, in 1974. On it, his reedy folk voice is full of pained wisdom; his beautifully crafted story-songs lend poetry to a troubled life. On the title cut he compares the departure of his love to a gypsy venturing out in a caravan. "And if the freedom your heart embraces/Is but a vision in the sand/Oh, I'll be waiting here, I'll be your oasis/I'll be your promised land."

Stephen Holden of
Rolling Stone
credited Grossman with "one of the most auspicious singer/songwriter debuts of the seventies." But this debut had a twist, for
Caravan Tonight
was the first album of out-gay songs ever issued by a major label. At a time when gay lib was still primitive, some people felt that Grossman's music would form a bridge between the enlightened and the ignorant. But it was too soon for that, and Grossman slipped out of view.

He was home in San Francisco and surrounded by friends on June 23, 1991, the day he died of AIDS at 39. A month before, thanks to those same friends' prodding, he had gathered his unrecorded work and made this, his only album besides
Caravan Tonight
. By that time he placed his "songwriting days" in the past; Grossman had been an accountant for years while overindulging in the local gay scene. His songs seem like an attempt to come to terms with what life had dealt him, to elevate it through song. But who would have expected this album, recorded under trying circumstances, to be such fun? On most of it he sings with a smile, dispensing the wry wisdom of someone who had found a sort of peace. All these years later, few gay mainstream pop artists are secure enough to be as candid with the world as Grossman was.

In his last weeks, while lying in bed hooked up to intravenous needles and surrounded by caregivers, he wrote a dryly witty fifteen-page bio,
Everything You Never Wanted to Know About Steven Grossman
. The oldest of nine children, he was born in Brooklyn on September 1, 1951. He matter-of-factly recalled a monstrously abusive Marine father; a complicit mother who weighed over four hundred pounds; an incestuous grandfather; and a home life on welfare in an apartment with no phone.

At Erasmus Hall High School – famous for educating another outcast, Barbra Streisand – Grossman found refuge. He taught himself to play the guitar and write songs; he also met his lifelong soulmates, Judith Casselberry and Jacqué DuPree, two budding singer-musicians who, as black lesbians, knew about marginalization. (Later they formed a respected, long-running folk-reggae duo, Casselberry-DuPree.) How does Casselberry remember Steven? "He was sarcastic, funny, he was a control freak, he was softhearted, he was very honest – most of the time. I adored him."

Grossman was also smart enough to study at Juilliard briefly, but school took second in his life to a larger cause. Gay men were coming out of the shadows, and after high school Grossman – who had had a girlfriend – eagerly joined them. "What really fascinated me was his courage about being who he was," recalls Christopher Bergman, his lover in the mid-'70s. Austin Noto, an earlier boyfriend (and the subject of the song "Caravan Tonight"), looked up to Grossman too. "For someone that early in the gay movement, he had a good head on his shoulders about who we were, how we should feel," says Noto. Social justice, explains Casselberry, "was very important to him in a deep, personal way."

He performed mainly for friends, but hoping for a break he pored over the musicians' want ads in the
Village Voice
. In 1973 he saw a listing placed by two record producers, Lonnie Lambert and Bobby Flax, who were seeking a singer-songwriter who wrote about the "gay experience." Tapes Only, said the ad. Grossman had none, but he audaciously phoned and announced: "Listen, I am the person you are looking for. All I want is a five-minute live audition in your office tomorrow." He got his appointment, and scored. Lambert and Flax – who were straight – produced a demo with Grossman and convinced Mercury that it was time to tap into the growing gay market. "I guess they saw dollar signs in it," says Bergman. But clearly they believed in Grossman; they began managing him and even bought him a piano. "He was pretty thrilled," said Casselberry.


Caravan Tonight
was recorded in late 1973 and early 1974. At a time when Alice Cooper, David Bowie, and Lou Reed were using androgyny and gender-bending as cartoon symbols of anti-establishment, post-hippie decadence, Grossman wasn't interested in pandering to clichés. Instead he offered a painfully honest portrait of a sensitive gay man's real life. Wild promiscuity was the accepted defiant lifestyle, but Grossman's songs ached with sadness and some disapproval over the frivolity of the new so-called "liberation," which had made commitment unfashionable. In "Dry Dock Dreaming," he wrote of sitting by the docks in the West Village, cruising all night for a loving embrace more than sex. "I'm turning to stone/I'm anxious and angry and want to go home/But please, not alone."

Richard Dworkin, an out-gay drummer and bandleader, became his friend around that time. "I wish there were more people around who could tell you how extraordinary it was when this album first came out," he says. "When you see little snippets of the gay '70s, they show David Bowie in platform shoes, or Sylvester in an outrageous outfit. And it's like, everyone was just out. Well, they
weren't
. Peter Allen was beyond coy. Elton John was 'bisexual' eventually, right? To do what Steven did with such grace – people don't realize how incredible it was."

Apparently Mercury did; they sent him on tour and hired gay activist Vito Russo, future author of
The Celluloid Closet
, to promote him in the gay community. Onstage, recalled Dworkin, Grossman affected a tough, slightly defensive façade, but it crumbled when he sang. "He had the ability to make people cry," said Austin Noto.

And not just gay people. A remarkable number of straight writers, including John Wasserman of the
San Francisco Chronicle
, were touched by him. "Those not hung up by traditional prejudices or warped by religious dogma will find a simple fact about Grossman's lyrics – they apply to human beings," wrote Wasserman. Even the
Poughkeepsie Journal
joined in the cheers. But to that paper's Walter Borawski, Grossman was "bound to be obscure." A writer in Berkeley, California agreed: Grossman's album "probably won't get much airplay," he wrote, "because it is too truthful, too explicit, and mostly, too gay." Grossman's parents certainly thought so; he sent them his album and they mailed it back.

By one estimate it sold around 15,000 copies – clearly less than Mercury had hoped. There was no follow-up. "He was always very resentful about that," said Dworkin, who added that Grossman's youthful breakthrough had spoiled him; he had never had to learn "how to do the kind of grunt work that people often have to do to establish musical careers. He didn't have the stomach for it."

After Chris Bergman moved back to his hometown, San Francisco, Grossman followed him. In 1976 he flew back to New York to shop his new songs. He found the climate much colder. "Potential managers or producers would say things like, 'You're a good songwriter, but you have to change those pronouns from he to she.' They told me my songs had no hooks or top forty potential and that they were simply too esoteric." He believed them.

Thereafter he performed and wrote only sporadically. And when he and Bergman broke up around 1977, Grossman fell right in with the prevailing gay lifestyle he had decried on
Caravan Tonight
. He adopted the buzzed-hair-and-mustache "clone" look, and after work "he'd go out and have a lot of sex," said
Dworkin. He also consumed, by his own admission, "a seemingly endless supply of Quaaludes, pot, and cocaine." Grossman's self-destruction only increased after a fateful Friday night in December 1979, when he was brutally mugged on his way to go dancing. Was it a gay-bashing? Not even Judith Casselberry, his roommate at the time, is sure. Grossman lost his right eye in the attack. He started wearing an eye patch; later he got a glass eye.

It took the onslaught of AIDS, and the growing death knell among his circle of friends, to make him join a twelve-step program. On Christmas Day of 1986, a cleaned-up Grossman met the love of his life, Jimmy Price. Only months later Price was diagnosed with AIDS-related pneumocystis. Soon after, Grossman learned that he too was HIV-positive. But not until 1990 – the year Price died – did Grossman develop full-blown AIDS.

He fought back, joining a gym and signing up for experimental drugs. The singer looked fairly robust that September, when he flew to New York for a birthday bash thrown for him by Austin Noto. But the friends and old lovers assembled, along with Grossman himself, knew he might not see another birthday. Casselberry had long been hounding him to record another album – "Are you just gonna take this music with you?" – but Grossman doubted anyone would care. Finally she convinced him to cooperate, at least for the sake of his friends. "I would like very much to give them back something to keep and remember me by," he decided. "Perhaps this will be my music."

Casselberry learned of an old basement recording studio in Berkeley owned by Paul Dresher, a fan of Grossman's. Guitarist Mimi Fox was brought in to record in duo with Grossman on a primitive two-track machine. The sessions, which took five nights, weren't easy. Grossman was riddled with KS lesions, even in his lungs; at times he could barely stand. "But he was real determined," said Bergman, who helped engineer. "I guess this motivation about wanting his songs to last was driving him."

To Grossman, "it was magic. Judy and I joked about how I suddenly went from being an invalid, largely bed-confined, to being in the studio staying up all night." A bright spirit shines through most of the songs, which would be dressed up in all kinds of settings. Several titles evoke the San Francisco gay scene of the day. A loping jazz combo was added to
Buena Vista
, a glimpse inside the city's (and his) favorite
cruising park. Grossman contrasts the silliness of standing around in the dark lighting matches with the hypocrisy of those who stand in judgment.
Greasy Griddle
, with its slap-happy doo-wop feeling, details a fantasy set in a Castro diner. In the calypso-flavored
Pearl Moon
, the loneliness that had once cut him to the bone is greeted with a shrug of the shoulders.
Other songs –
In Defense of Spring
,
Holiday
– offer lighthearted philosophy about accentuating the positive.

The melancholy poet in him wasn't ignored.
California Now
dates from 1974, the year Chris Bergman had moved to San Francisco, leaving Grossman to seek comfort in empty hookups. The bleak images of desolation in
Winter Story
sprang from his youthful breakup with Austin Noto.
Last Pioneers
is his answer to the industry people who wanted him to "live a lie." He wrote it in 1976, when he "was filling that space in between going from a would-be singer to an accountant," he said ruefully.
In
Step
he speaks calmly about life in the grips of "the big A." He wrote it in 1990 for a gym buddy of his, Paul, who would die that year. Grossman's last composition,
Something in the Moonlight
, was inspired by Jimmy Price, whose spirit, he said, kept visiting him. The song is hopeful, even playful, as it ponders the beyond.

After the sessions he returned to his bed, prepared to let the end come. "I don't intend to see this project finished," he wrote. "I do have complete faith in Judith to produce a product that would not embarrass me or her and who knows? It might turn out really great and I'll win some kind of posthumous award for best album by a very dead but very sensitive homosexual." A bit later he dropped the veil of humor to add: "Crying, for me, is the act of tapping into my sadness. It is not a release. The well is too deep and ever widening. What I need is the comfort of knowing that I have made a contribution, that I made people laugh, that I have loved and been loved, and that my music and memory will go on."

Following his death, Casselberry tried shopping the project with no success. Thereafter the tapes sat untouched for years. "Everyone was so busy," said Bergman. "Maybe a little bit not wanting to face it emotionally, too." Finally Casselberry and Dworkin began the painstaking process of technically enhancing the raw guitar-voice tracks and bringing in musicians and arrangers to flesh them out. The finished CD is far more than an act of posterity. "It may not be something that shatters the industry," says Casselberry. "But it's going to touch
somebody
."